A premiere da 2ª temporada de Spartacus, com o título de Vengeance, está programada para o próximo dia 27, apesar de já ter sido disponibilizada no site da Starz, após a pré-estréia no último dia 18. Farei algumas considerações do que podemos esperar dessa temporada, e algumas recapitulações que podem ser interessantes.
Para quem não se lembra, Blood & Sand terminou com Spartacus matando Batiatus, e libertando os escravos do Dominus. Além disso, Crixus golpeou Lucrecia no ventre, com o objetivo de matar o filho que ela esperava, Aurelia se vingou de Numerius pela morte de Varro, Doctore tentou matar Ashur mas não conseguiu e Ithilia conseguiu escapar, mas ordenou aos soldados de Glaber que trancassem a casa de Batiatus para que nenhum convidado pudesse fugir.
Depois de quase 2 anos de muitas especulações sobre a 2ª temporada, tivemos nesse meio tempo a mini-série Gods of the Arena, na qual os produtores e o canal Starz puderam verificar que a audiência não sofreria caso a série retornasse sem Andy Whitfield. E foi realmente um sucesso, o público gostou de ter de volta os principais personagens da série, incluindo o morto Batiatus, Jaime Murray como Gaia, ensinando os mais vis truques para Lucrecia, além das disputas entre Batiatus e Solonius, e claro os gladiadores com Crixus e Gannicus.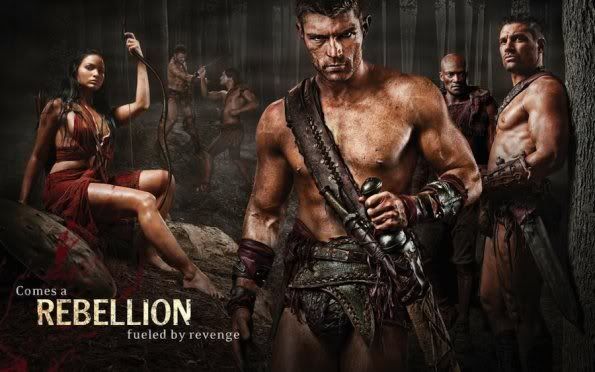 Fora da série, em Março de 2010, antes mesmo da 1ª temporada terminar, Andy Whitfield anunciou que iniciaria um tratamento contra câncer no sistema linfático, o que deixou os produtores e o canal Starz preocupados, não apenas com a saúde do ator, mas com um possível atraso nas gravações da 2ª temporada, que começariam dali a um mês. Em Julho de 2010, decidiu-se pelo teste de Gods of the Arena, e em Outubro optou-se por selecionar um novo ator, com as características de Whitfield, para substituí-lo na temporada seguinte.
Em seguinda, em Julho de 2011, com a Comic-Con, mais detalhes sobre a nova temporada foram apresentados, como o título Vengeance e o novo protagonista, Liam McIntyre. Além de fotos promocionais do elenco. Em Setembro, Andy Whitfield veio a falecer "em uma ensolarada manhã de Sidney", segundo sua esposa. Já em Novembro, saiu a renovação da série para a 3ª temporada, ainda sem título, antes mesmo da estréia da 2ª temporada, o que aguçou ainda mais a expectativa dos fãs pelo retorno da série.
E o que esperar desta segunda temporada? O próprio título já deixa bem claro, não será apenas Spartacus buscando vingança, mas diversos personagens. Podemos dizer que Spartacus já lavou a alma com a morte de Batiatus, mas Lucrecia tem motivos para se vingar, e não é de pouca gente, pode encabeçar a lista Crixus e Ithilia, esta por sua vez também tem motivos para se vingar de seu marido, Glaber, que por sua vez irá aparecer mais nesta temporada e tem motivos para se vingar de Spartacus, Doctore e toda a turma. Também não poderia faltar o retorno de Gannicus, que poderia querer vingança sobre a queda da casa de Batiatus e também redenção. E claro, as batalhas serão épicas e não ficarão restritas às arenas, deverá haver diversos cenários abertos e diferenciados para o derramamento de sangue.
Spartacus Vengeance estréia no canal Starz dia 27/1, sem previsão de estréia pelo FX no Brasil, e você confere a Opinião do Guia a partir da próxima semana. Confira a seguir o trailer de Vengeance.